It's tempting in this time of New Year's resolutions, to start doing a postmortem on our annual productivity. We love the end of the year for that very reason. We enjoy setting goals and assessing our progress. However, it's easy to start viewing ourselves as just a series of personal and professional milestones. This past year has been challenging, but there have been so many pleasures, large and small. We wanted to take a few moments to remind you all that you are more than your work, and so are we!
If you are interested in what two #actuallivingscientists did in 2018 to support their emotional and mental well-being, read on!

Favorite Reads

Rachel: I'm counting audiobooks here, because I trained for a half marathon and did my last bits of dissertation field work in 2018, so I had plenty of time to plug in my ear buds. My favorite non-fiction book of the year was Ibram X. Kendi's National Book Award winning Stamped from the Beginning: The Definitive History of Racist Ideas in America. This book gave me a new mental map for how to think about American History. My favorite fiction read of the year was the young adult novel Aristotle and Dante Discover the Secrets of the Universe by Benjamin Alire Sáenz. I binge listened to this audiobook, read by Lin Manuel Miranda, on a long day hike. I laughed, I cried, I had all the feelings. My favorite poetry book of the year was The Poet X by Elizabeth Acevedo, which won the National Book Award this year.

I also read a few really good online essays this year. My two favorites were Everything You Know about Obesity is Wrong, which is a must read in my opinion, and the PLOS blog post about Changing our Attitudes Toward Invasive "Alien" Species, which I thought was really well thought out and the opposite of the click-bait type essays you usually see behind titles like this one.

Meridith: Rachel has been so clutch for recommendations this year. I also listened to Aristotle and Dante Discover the Secrets of the Universe and adored it. I would listen to it in bits and pieces during afternoon bouts of dishwashing and tidying, but I often ended up sitting down and just feeling all the feels this book delivers.

I've read lots of short reads on the Kindle app (did you know that Amazon Prime members get a free book each month?!), but I've also been reading a book I was gifted in Scotland for months now (a chapter here and there) and I both can't wait to finish and don't want it to end. I'm excited to write about this book in a future Science Book Club post!

I've been able to get a lot more reading into my months thanks to our new Sweet Links ParTEA blog series. Each month Rachel and I set aside links to interesting looking articles to share on here, but it's turned into one of my favorite monthly self-care rituals where I block off an evening for relaxing and reading.

Favorite Listens

Rachel: I love podcasts! This year I was really digging the Uncivil podcast, which details American Civil War history in a really innovative way and is cohosted by my number one social science crush, Dr. Chenjerai Kumanyika. I also continued to love the She Explores podcast for it's thoughtful storytelling about women in the outdoors.

In 2018, I continued to listen to music from the 70s like the cliche hippie I am. Other than that, I mostly tried to get everyone I know to listen to Lizzo. I also really enjoyed Rhiannon Giddens album Freedom Highway, which my husband gave me as a gift last holiday season. Here is what Spotify says I listened to a ton this last year.

Meridith: Ologies! This has been by far my most listened to podcast and one I LOVE to share with and recommend to others and they are always into it. Ali Ward has a wonderful way of bringing you right into the interviews with her. I think all of us here can appreciate a solid laugh and learn.
I don't think my music tastes have truly evolved in the last 10 or so years. I have essentially been listening to the Garden State soundtrack songs and their close relatives since that movie came out. Spotify's Discover Music weekly curated playlist is my go-to but I don't often follow up on new music. I appreciate that algorithms have my back when it comes to finding me songs I dig. To get a better idea of what I jam to, you can check out my Top 100 songs of 2018.
Favorite Hike

Rachel: I went on a few really quality hikes this year. I think my favorite may have been the 10 mile hike I took in Pinnacles National Park on the anniversary of my brother's death. I listed to a whole audiobook (see above) and got some much needed catharsis. Plus, I got to visit a National Park I had never seen before, and I love getting to go to new National Parks.
Probably my most fun hike of the year was a muddy, mosquito filled hike in Hawai'i with my parents. We got low key lost, and I covered myself in tea tree oil because I forgot insect repellent. It was a beautiful mis-adventure.
Meridith: The beginning of my year was fairly swamped with prepping for my comprehensive exam. It was cold and snowy in PA until mid-April so I didn't get much hiking done until July when I was in Scotland for my honeymoon. Trying to choose a favorite hike from that is too hard! We roamed the highlands on foot and bike. Every day was relaxing and gorgeous.
And while we're adding new National Parks to our list (inching closer to that life goal!) I also visited Great Sand Dunes NP with my parents and husband and it was magical! I'm extra excited to visit the rest of the NPs in Colorado, but I think Cuyahoga Valley National Park is next on my list.
Favorite Tradition

Rachel: I loved reading every new update of the Check Please! Webcomic as soon as it was released. I wouldn't say I would drop anything to read an update ASAP, but…pretty much I would drop anything. I need this sort of pure entertainment in my life. I also bought the book, and you should too (pay people for their art!!). Do you want to add something delightful to you life? Read this comic.
I also started getting up earlier around two months ago, like 5 am early (Mer's Note: this is a wild ability and I still struggle to get up AND OUT OF BED at 7am). My favorite part of this is that each morning I make my coffee and allow myself to read for pleasure for half an hour. It's one of my favorite times of day now. If you're trying to get up earlier, tempt yourself with something lovely, like dedicated reading time.

Meridith: My favorite near-weekly tradition is painting my nails. I never got to have cute, long nails in my ecology days because they were always getting dirty/chipped/broken during field work (or during my MS: greenhouse work). But now it's relaxing, fashionable, and 100% me time.

Favorite 2018 Hobby

Rachel: Does reading fanfiction count? Whatever. Reading fanfiction.

Meridith: I'm counting fitness activities as a hobby. I didn't run as much this year, but I did go to a good amount of indoor fitness classes on campus, especially during the spring as an effort to stay sane while working towards my comps. Benjamin and I also did a lot more cycling this year and we both bought new hybrid road bikes! Excited to get more into cycling around PA in 2019 when it warms up again.

Favorite New Skills

Rachel: In 2018, I finally developed the patience to caramelize onions. Why did this take me 31 years? Caramelized onions are the business.

Meridith: Y'all this was the year I finally learned how to braid my own hair directly behind my head. Seriously, I'd only been able to conquer the side braid (and some badass milkmaid braids) before now. It seems like a small thing but I was SO PROUD when I finally was patient enough to get it right.

Favorite Snack

Rachel: I ate so much carrots and hummus in 2018.  So much. The most. I literally ate a whole tub of hummus over the weekend while grading.  Have you tried this new thing called hummus and carrots?

Meridith: Homemade PB + apple. There will be a future blog post about how to make the best peanut butter everrrrrr.
Favorite Watches

Rachel: I watched so many things that I truly loved this year. But I will try to keep this to a reasonable length.

My favorite movies I saw in theaters this year were Crazy Rich Asians, because I did not expect to cry my eyes out watching a RomCom. I also really liked The Incredibles II! Last, I want to give a shout out to Sorry to Bother You, which I didn't think I loved when I was watching it, but then I thought about it and talked to people about it for months after I saw it. Art that effects you is important, even if you don't appreciate it right away.

My favorite YouTube channel this year was From My Bowl, because Catlin is a treasure and her vegan food is amazing.

I straight up binge watched The Good Place and the Netflix reboots of Voltron and She-Ra. I think you should go watch all of these things.

Meridith: I, too, binged Voltron and She-Ra. Looooove me some easy, uplifting cartoons. I am hanging onto the final episode of Adventure Time to watch when I'm ready. I just can't accept it's over yet. (But did enjoy Finn's voice actor in Voltron!)
I started watching the re-boot of Charmed and I'm enjoying it a lot despite it's egregious science errors. I forever recommend watching Crazy Ex Girlfriend, another show I am NOT ready for it to end. I watch many, many other TV shows. It's usually how my husband and I relax in the evenings. Let me know if you want more recommendations!

Favorite GIF to use in Text to One Another
Rachel: Get you a girl who looks at you like Victor looks at Yuri, which is the same as me looking at Mer.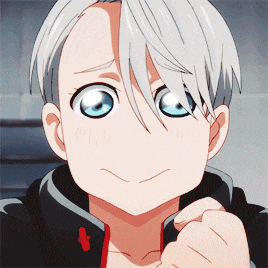 Meridith: I kinda thought it would be hard to find a favorite GIF….but when I checked our texts the two most recently sent GIFs were both this "crop top king" (Rachel's words) from She-Ra.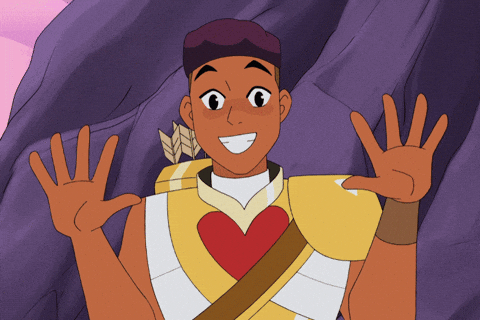 Thanks for tagging along with us as we recapped our favorites. We'd love to hear about y'all's favs as well (in one of these categories, or a new category)! Leave us a comment below!